Baltimore Fixtures Specialists: Garbage Disposals, Toilets, Sinks, & More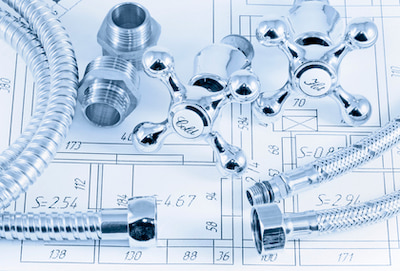 For all things related to plumbing fixtures in Baltimore, think Lee Brothers Contracting. We've earned our impeccable reputation through consistent hard work and quality results. You can't deliver superior service and customer satisfaction without working hard to make that happen.
It's essential to have a reliable plumber in your list of contacts so that you always know who to call when you need service, emergency, or otherwise. And we look forward to helping you with everything from drain cleaning to fixture installation and repair work.
Garbage Disposals
Among your most crucial plumbing fixtures, garbage disposals rank pretty high. Unfortunately, they're commonly misused, and that causes problems to develop. For safety and sanitation purposes, discontinue use and contact us immediately if you experience any issues with your disposal.
All kinds of things go down the disposal, but not all of them are meant for it. We'll safely resolve any existing problems and get your disposal working again.
Toilets
There isn't an established Baltimore plumber around that hasn't spent most of their time working on toilets. We can take care of installation, repairs, and replacements for residential toilets.
Although clogs are the most common problem, leaks, running, and other issues can develop. Please don't procrastinate when it comes to repair needs for your toilet.
Showers & Tubs
Your bathroom fixtures include a shower and bathtub that gets used frequently. However, this regular use can lead to drain clogs, faucet leaks, and other problems. Call Lee Brothers Contracting when you need plumbing service for your showers and tubs.
The time you spend soaking in a hot shower or bath can be the best part of your day. Our job is to make sure your fixtures are ready to handle the job you require from them.
Sinks
The sink in any bathroom is vital for tasks like brushing teeth and shaving, but that means even a minor repair can cause our sink to be out of commission. For this or any service you need for plumbing fixtures in your Baltimore home, contact us, and we'll make things right.